Spray Tanning and Airbrush Sunless Tanning
Tanning Shower Versa Spa from Magictan!
Booth system for automatic Spray Tanning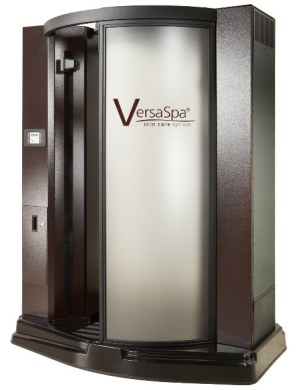 Advantages of Spray Tanning and Airbrush Tanning

Airbrush tanning produces quicker results
Spray Tanning is healthier alternative to UV Tanning
It may complement an existing tan.
Spray Tanning is safer!
Spray Tanning produces a Golden Natural tan look.



SPRAY TANNING FAQ
How to prepare best for a VersaSpa Spray tanning?

You should be showered, shaven, free of make-up, perfume, oil, body sprays, deodorant and moisturizer for optimal results. Best if you bring loose, dark fitting clothing for after your session. It is possible to wear wear bathing suit or undergarments during the airbrush tanning. Some clients want to to tan nude. The VersaSpa session lasts about 1 minute plus dry time for the application and a total of 10 to 15 minutes depending if prep and after skin care is used.


What is imortant after spray tanning with Versaspa?

Wait at least 6 hours after the sunless tan application before you shower to give the DHA time to fully react with skin proteins. Avoid activites that may cause perspiration.


Who can use VersaSpa?

If you have strong asthma or other respiratory illnesses or if you are pregnant it is not recommended tanning in the VersaSpa™ tanning booth until consulting a doctor.
The age restriction in Austria for sunbeds (not allowed under 18) does not affect VersaSpa tanning.


What is the difference to Spray tanning with airbrush?

When airbrushing the tanning lotion is sprayed from personal, in VersaSpa the tanning lotion is brought to your skin by the machine automatically. No one will see you naked!


What is the difference to traditional tanning beds?

MagicTAN tanning is completely UV-free, the tanning lotion is based on a sugar DHA) which initiates the self tanning. Only the upper skin gets tanned.( self tan or self tanning).


How long will the tan last?

The longevity of a VersaSpa Sunless tan depends on the skin's natural exfoliation process. On average, a sunless tan will last 4-7 days, it depends of age and skin type.


How frequently can I do tanning?

Generally there is no restriction. People with quickcell turn-overs may want to VersaSpa every 3-4 days, while others may need to apply only once every 7-10 days.
Will the colour be even all around?

The VersaSpa is designed to mimic a natural tan you would get if you were at the beach. The only part of your body which will not get sprayed is your underarm sits. Impotant is to take the positions right as the tanning instructions tell.


Can I use a tanning bad and VersaSpa in combination?

Of course, you will get a double effect! At first tanning bed, later Tanning! You will be shining bright with a bronze tan immediately after your first visit in the tanning studio. And the results last even longer.


Solutions for VersaSpa Spray Tanning
3 Step skin care system

Prep Solution

Sunless Prep Hydration Spray is applied.
It balances your skin's pH levels and increases tanning results.
Bronze Solution

Choose a full body, a face or legs only treatment.
Spray Tanning Info in German
Spray Tanning and skin care for all skin types!!